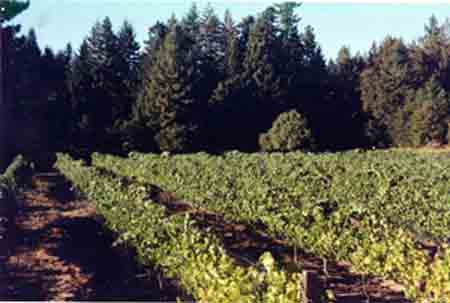 McHenry Vineyard, 2004 Pinot Noir, Estate, Santa Cruz Mountains
SOLD OUT
Pleased enjoy our fifth Pinot Noir from our new estate vineyard.
The new vineyard lies in the same spot as the one Dean, Jane, Henry and Linda McHenry planted in 1972. The old vines produced some extraordinary Pinot Noir such as the 1984 that won numerous awards including best Pinot Noir in the state at the California State Fair, and gold medals for the 1988 and 1989 vintages. We mourned old vineyards the death from Pierces Disease in 1992, but kept the hope alive that someday we could replant. We replanted in 1997, the last summer of our senior partner Chancellor Dean McHenry's life.
We harvested between August 28 and 30 at 24.4 degrees Brix, 1.0 total acidity (percent by volume) and 3.2 pH. The primary fermentation lasted nine days and the resulting wine rested for nearly two years in Francois Freres French oak barrels.
The aroma is complex and intense with a hint of black cherry. It has an elegant balance with a ripe fruit taste of blueberries and cherries. The finish is long with cherries and blueberries.
320 cases produced
$21.50 per bottle
Alc. 13.1 % by volume

For an independent assessment of this wine, see Anything Wine.
For an independent comparison with the 2003 Estate, click here.
---
Contact Info:
Henry and Linda McHenry
Annie McHenry and Brandon Blanchard
A: 3208 Knowland Ave, Oakland, CA 94619
P: (831) 222-0379
E: contact@mchenryvineyard.com
---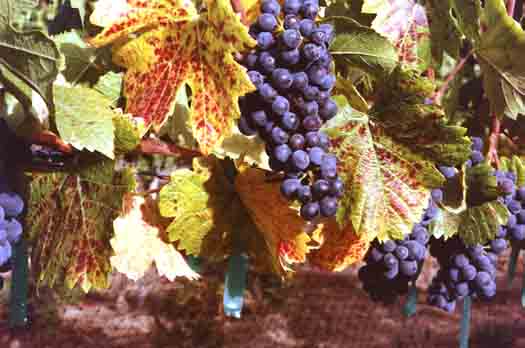 McHenry Vineyard Estate Pinot Noir Grapes September 2002